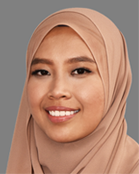 Khairunnisa Binte Yahya
Chemical Engineer
National Environment Agency
How are you transforming the future as an engineer?
Air quality affects our health and quality of life. Ensuring good air quality therefore helps to safeguard public health. Because the atmosphere is a very complex system, identifying the sources of pollutants or the reasons for their changes in the atmosphere is no easy task. At the Pollution Control Department in NEA, I work on air quality related projects that assess the different sources of ambient air quality. Our task is to ensure that the air quality monitoring stations across the island are operating in optimal condition so that the air quality data and trends are always accurately monitored, assessed and analysed.
Who will benefit from your project?
My work helps to improve the air quality in Singapore, which impacts the environment, human health and economy.
What is the best part about engineering?
I like engineering for its versatility. Getting to the root cause of problems and solving them, understanding how things work as well as learning new processes and technologies make engineering exciting and multi-dimensional.
Why do you choose to be a Public Service engineer?
As a Public Service engineer, what I do will directly or indirectly impact our environment. This has great significance on not just a group of beneficiaries, but the nation as a whole.